On this day of freedom, I slowed down to pause, pay attention, snap photos, and give thanks for some of the smallest, simplest, humblest parts of my life in this great country.
The garden, though planted late, clings, climbs, and unfolds yellow starbursts of possibility.
Eldest daughter links and loops a line of variegated purple.
Clothes clasped like family—held firm, but easily released when the time comes; in the background, a novice photographer delights in the bokeh effect, pearls of light gleaming in her own back yard.
Soft pink day lily, edges crimped and crinkled like the hem of a vintage skirt.
A katydid, or close cousin, tightwalks along stamen of a whimsical duo; watercolor magenta bleeds from psychedelic yellow into faded rose.
Humble metal chairs, rusty but friendly, are assigned front porch duty—a place to read, write, pray, rest, and wave to neighbors.
Boston ferns along the porch, fronds wafting casually in the breeze, like a girl who lets down her hair will shake her head so that soft strands tumble loose and free.
Shyly joining Ann Voskamp's Gratitude Community.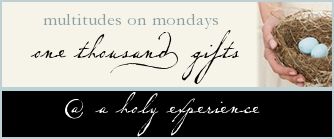 Also submitting to "On, In and Around Mondays."